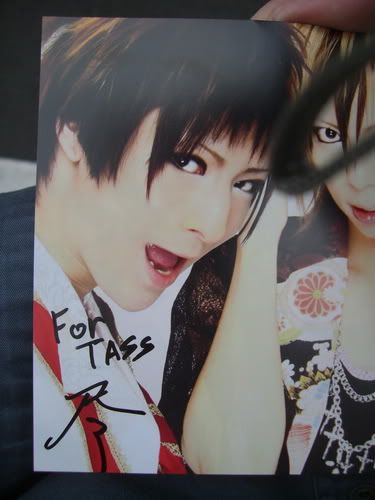 My boyfriend is the coolest :Db
Current Mood:

ecstatic
Since I've started college, I felt like my recreational reading time has sharply been reduced.
Thus, I'm challenging myself to: Read 50 books in 2009. (a la
50bookchallenge
)
Remember Me by Sophie Kinsella, 400 pages
The Secret Dreamworld of a Shopaholic by Sophie Kinsella, 320 pages
Shopaholic Abroad by Sophie Kinsella, 329 pages
Bookends by Jane Green, 368 pages
46 more books to go :D

Ich komme aus Niederlande. Woher kommst du?
Gute Nacht!
Guten Abend, ich heiße Dwynlip.
Current Mood:

cheerful

Current Music:

Britney Spears - Womanizer | Scrobbled by Last.fm
A while ago I got so upset at the prices of some of the ipod cases/covers D: The cheaper ones will only hold your ipod, not allowing you to adjust volume or skip the song without removing the cover. The convenient ones on the other hand were extremely expensive.
So I just used some leftover fabric I had and sewed one. I just needed something to cover it up, so I wouldn't feel like I was showing off my mp3 player every time I was listening to music. There's a small hint in the fabric pattern though: apples! :D
Well, I received my HERO single two days ago :D How happy was I!!!
(I should have ordered from jishuban club - the privileges are so much better DX)
I'm sure they'll be on my top 10 most played list within a few days!
I wonder if the next single will be ISAY & 出てこいや (
detekoiya
)? Or will those just become the C/Ws :O
Current Mood:

awake

Current Music:

優しい言葉 - HERO
Pattern:
International sock of doom
by Julie Gardner
Yarn: Lana d'Irlanda
Needles: 3.5mm circular
Modifications: Didn't alternate "rib of doom" pattern.
My first socks! I learned a LOT from knitting these: magic looping, basic sock construction, and the names of each sock section. Despite not following the pattern
exactly
, they turned out really nice and comfortable. I don't have to buy socks anymore! I can knit them instead :D I need to find lighter weight yarn though. Lana d'Irlanda is a bit too thick for everyday wear.

Hmmmm....I wonder when my Hero single will finally arrive :O
Current Mood:

hungry

Current Music:

オンナザカリ - メロン記念日
o------------------------------o
Recently my gums have been hurting, I think I brush with far too much pressure! I usually buy the extra soft toothbrushes aimed for people with braces. The other day I tried using a hard toothbrush and MAN! did it hurt!
After doing a little research it seems like most people and dentists recommend using a soft toothbrush. Apparently, the ones with hard bristles wear away your enamel.
Hmmm...whenever I use the hard ones I'll brush more gently, or else it will really hurt. But when I use the softer ones, I brush like crazy 'cause I'm afraid my teeth won't be clean enough.
Ah, maybe I'll just stick a post-it to the mirror reminding myself to brush gently.

A picture I took a while ago when the clouds were beautiful.
Current Mood:

calm

Current Music:

Muse - Sing for Absolution
Used some of my leftover stones on thumbtacks, they're so easy to make: instant gratification :)
Also finished the mittens for my mom. The pattern was easy to follow; knit on straight needles then seamed at the sides. It was my first time seaming, so the ribbing turned out kind of wonky...but my mom likes them -- so it's all good :D
Pattern: -->
Bev's THE Mitts
<----------*-----*-----*---------->
HERO's new welcoming image!!
I was so surprised -- the first time I've ever seen his forehead before :O Such a refreshing look, which had to be documented: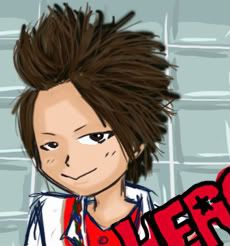 I'm on a roll!!
Current Mood:

calm

Current Music:

Goodnight Moon - Shivaree